Masters of The Second Story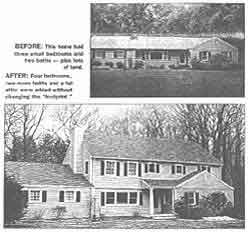 Cramped in your Cape?
Scrunched in your Ranch?
Time to claim your "air rights!"
If the above description fits your family, then you already own un-developed real estate worth, literally, tens of thousands of dollars. Where? Right over your head!
In Fairfield County today, home prices are reaching all-time highs, and affordable building lots are almost non-existant.
This has become a real hardship for growing families looking for a move-up house with more bedrooms and bathrooms, perhaps a family room.
Enter Homecare Remodeling Company. This design-and-build firm has made utilization of existing air space their specialty. "The first thing I ask homeowners," says Homecare's Jere Rowland, "is whether they like their present neighborhood, and if they'd stay put if they could. If they say 'yes,' I ask them for their new-home wish list. Then we start exploring their design options."
Rowland says many people have trouble visualizing the possibilities of a true second story.
"They don't realize that this will mean not only 3 or 4 more bedrooms, perhaps 2 new baths, but also a great big usable attic. They're really gaining 1-1/2 stories -- without going off the existing'footprint' of their home.
They're getting a big, new house just by cashing in on buildable land they already own. And it's great to create these elegant new homes without eating up any new land."
Homecare's work on major residential makeovers earned Rowland the award as 1997 Remodeler of the Year, presented this February by the Fairfield County Home Builders' Association, the regional chapter of the National Association of HomeBuilders.
And helping families move up is earning Homecare the title: "Masters of the Second Story"